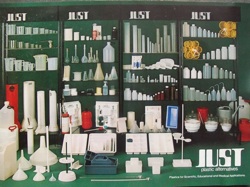 Established in 1969 Just Plastics are the foremost and only dedicated distributor of Laboratory and Industrial Plastic products in the United Kingdom.
Under our banner of "Plastics Alternatives" we challenged the conventional use of materials that could be replaced by Plastics and we were at the leading edge in the development of UK led changes.
At the same time as supplying all the major manufacturers' products we have our own exclusive and unique ranges which include:- Heavy Duty Funnels and Beakers that conform to UN specifications an Aseptic Funnel in two types, Ampoule Breakers and small containers. Just also produce the Rain Precipitation system of Acid Rain measurement National standard equipment as well as Dust monitoring equipment.
This is just part of the story and our
Fabrication department produces Trays Tanks
Measuring and Control products made to customer specification as well as supplying Sheet, Rod and Tube materials. Our Extrusion facility produces over 140 tonnes of Flexible, Semi-Flexible and Rigid tubing per annum for a wide range of Industrial and Laboratory uses.